CULTURAL ENCOUNTERS



Cultural Encounters 2021
On the Notion of Impact in the Cultural Context
November 27-28 2021
Beykoz Kundura



Organized in collaboration with the curatorial team of A Corner in the World for the 4th consecutive year, Cultural Encounters are designed as a 3-day event aiming to connect Spaces of Culture project partners with artists, researchers, cultural practitioners, and the public; and create a wider visibility for their work through discussions on current pressing issues related to cultural practices.

As the pandemic and the subsequent social, economic and political crises provided a unique opportunity to evaluate previous practices in a new light, arts and culture actors reexamine how cultural practices and activities can have a positive impact on the live of individuals and on wider communities along the fundamental questions of what needs to be done, how and why to create sustainable impact.

In Turkey, a large part of the recent cultural dynamics is fuelled by project-based grants and funds for organizations from various sources. Within this dynamic framework, arts advocates, actors and researchers are discussing how the cultural sector can reorganize itself to enhance its contribution to communities and find its essential place in it in the light of the last two years. Measuring the actual value of arts and culture to society is notoriously difficult, as their impact is complex and far reaching. Still, just as a stone creates small circles of waves in the water, each culture and art project does have an area of impact. These circles travel to the shore and come back. They will weaken when they cross paths, but if the various circles are vibing with each other, their energies will be added and increased. Similarly, the ability of the actors in different fields and agencies of art and culture to attune their perspectives towards a common and cooperative future will enhance their impact and their scope of operation. The question how this can be achieved successfully will be the leading thread for Cultural Encounters this year.

The Turkish-European project Spaces of Culture supports a new generation of change-makers and has provided a platform of discussion on cultural practices and policies across Turkey since 2017.

The project provides spaces and resources for the realization of cultural projects within the visual and performing arts, as well as for discussion, training and development opportunities for local institutions, cultural professionals and community members in Izmir, Gaziantep, and Diyarbakir and their neighbouring cities. The project is initiated by Goethe-Institut, the Consulate General of Sweden in Istanbul, the Embassy of the Netherlands, the Institut Français de Turquie, Anadolu Kültür and Istanbul Foundation for Culture and Arts (IKSV).





Cultural Encounters 2019
The Future Is Now: Constructing and Reconstructing Cultural Practices in Turkey
7-8 December 2019
ARTER Sevgi Gönül Auditorium



Conceived within the framework of Spaces of Culture program and curated and organized by A Corner in the World, the two days cultural encounters took place under the hospitality of Arter.

Please download the program for more information.


In Turkey, culture and arts professionals operate in a context defined by a diverse range of actors: from public policies to local actions led by municipalities, privately funded institutions, independent artist-led initiatives or cultural and creative industries, to the role of foreign institutions, the cultural landscape in the country is extremely broad. Therefore, the shaping of cultural policies and practices takes various forms, from local to national levels depending on the connections that are possible to build on a given territory. How, in the context of Turkey at large, are cultural practices constructed and implemented? How do interactions between various actors involved form and reform it? What are the effects of those activities, sometimes devised and construed together in collaboration, sometimes made up of by individual efforts?

The Future Is Now: Constructing and Reconstructing Cultural Practices in Turkey aims to address these questions with the involvement of leading as well as emerging culture and arts operators in Turkey. Featuring exemplary projects supported by Spaces of Culture in Izmir, Diyarbakır, Gaziantep and beyond, we will meditate on perspectives and experiences of cultural actors to facilitate an inspiring discussion with a focus on the contemporary issues of urban transformation, heritage and access to arts and culture in local and global contexts.

Through a calibration of creative meeting methods and thought-provoking discussions, showcasing exemplary artworks and talks and working sessions, the program aims to provide a free space for the actors to exchange knowledge and experiences.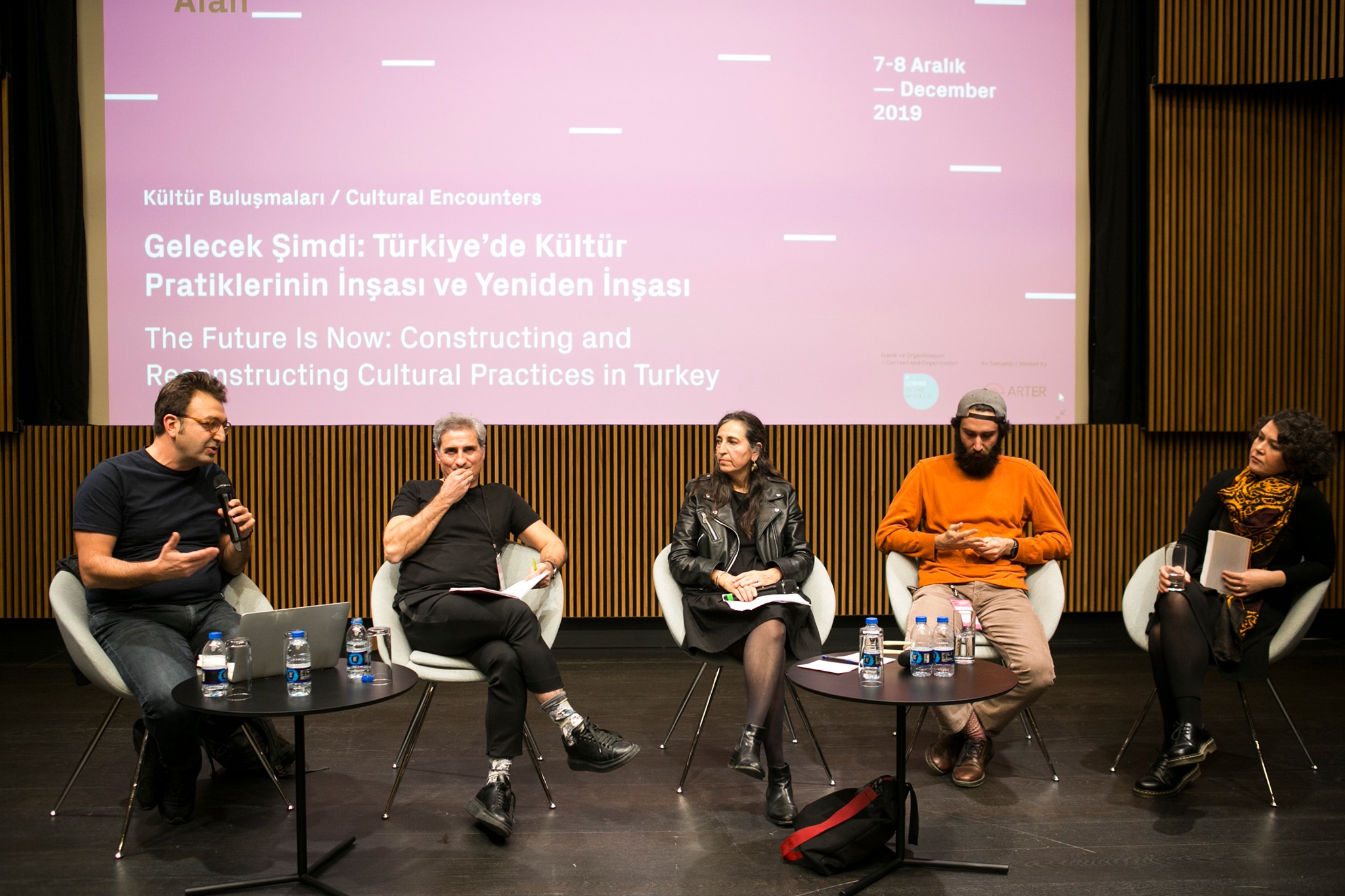 Cultural Encounters 2018
Re-Thinking Spaces
17 - 18 December 2018
bomontiada

Conceived within the framework of Spaces of Culture program and curated and organized by A Corner in the World, the two days cultural encounters took place under the hospitality of bomontiada.


Please download the program for more information.


By supporting a diverse range of initiatives and projects in Gaziantep, İzmir and Diyarbakır, Spaces of Culture is a unique program that underlines and encourages more space for cultural activities to spread around Turkey. The diversity of supported projects (festivals, workshops, exhibitions, films, performances, trainings or talks) illustrates the dynamism of a vibrant civil society that brings people together in the context of arts and culture and creates valuable interactions between engaged communities.

In the context of ongoing social and political transformations, arts and cultural initiatives are a priority as they present opportunities for exchange, experimentation, innovative research and creativity. This contributes to developing meaningful social cohesion, better understanding and create new ways of including diverse communities.

With this context in mind, "Re-thinking Spaces" examines the notion of "Space" itself: what are the "spaces" we need to work towards more inclusivity, diversity and creativity? Who are the change-makers and the actors of transformation? How do we engage our communities? How do we foster communication and exchange among the diversity of actors, peers and projects to encourage emulation and creativity?

"Re-thinking Spaces" is conceived as an opportunity to look at practices and questions that can allow us to create opportunities, open shared places and offer a sense of belonging in a globally challenging time for spaces of culture.