NEWS


Cultural Encounters 2021:
On the Notion of Impact in the Cultural Context
November 27-28 2021
Hosted by Beykoz Kundura's new stage Kundura Sahne
Livestreamed through Spaces of Culture YouTube channel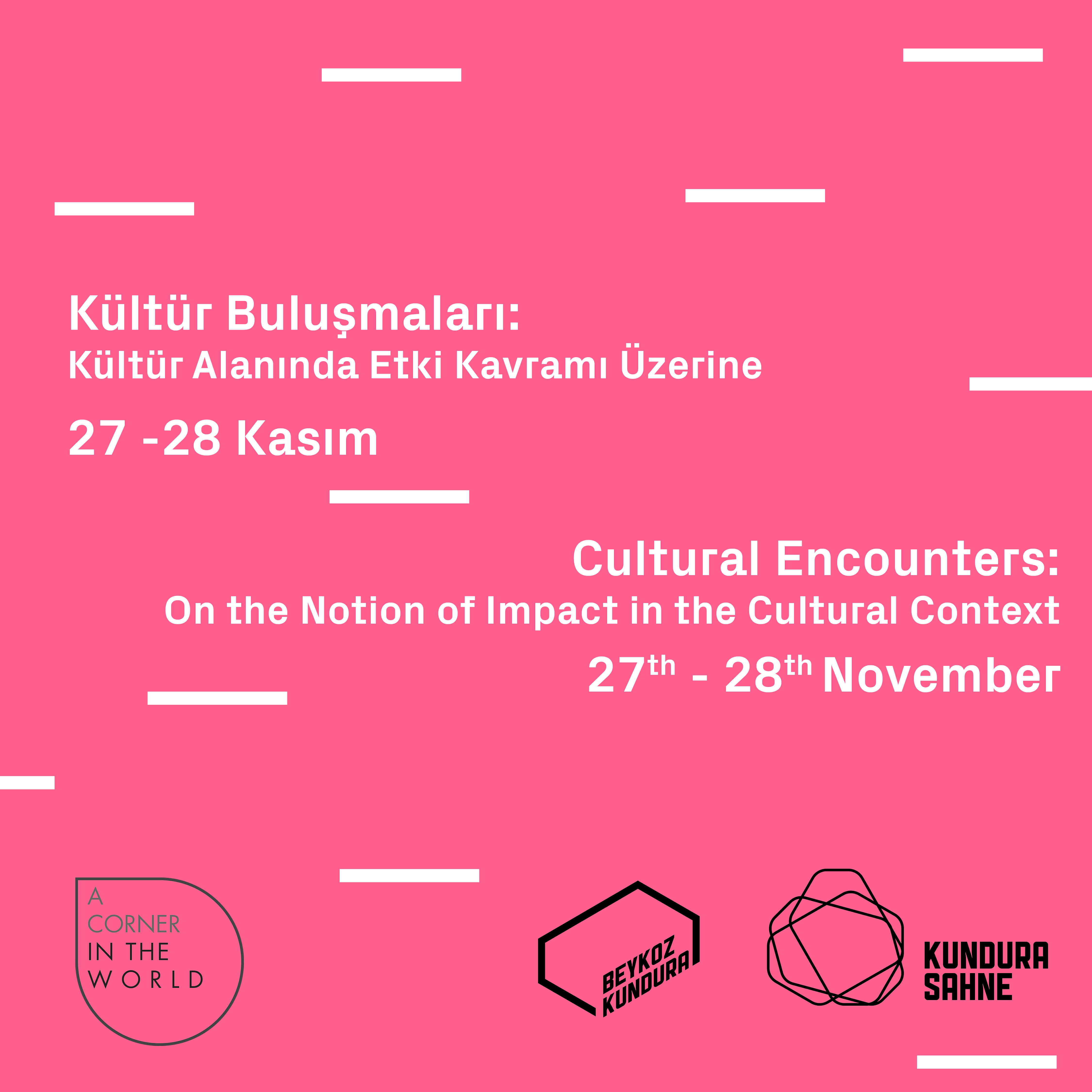 Spaces of Culture's Cultural Encounters 2021 takes place within the thematic framework of 'A discussion on the notion of impact in the cultural context,' hosted by Beykoz Kundura's new stage Kundura Sahne.

Organized in collaboration with the curatorial team of A Corner in the World for the 4th consecutive year, Cultural Encounters are designed as a 3-day event aiming to connect Spaces of Culture project partners with artists, researchers, cultural practitioners, and the public; and create a wider visibility for their work through discussions on current pressing issues related to cultural practices.

As the pandemic and the subsequent social, economic and political crises provided a unique opportunity to evaluate previous practices in a new light, arts and culture actors reexamine how cultural practices and activities can have a positive impact on the live of individuals and on wider communities along the fundamental questions of what needs to be done, how and why to create sustainable impact.

In Turkey, a large part of the recent cultural dynamics is fuelled by project-based grants and funds for organizations from various sources. Within this dynamic framework, arts advocates, actors and researchers are discussing how the cultural sector can reorganize itself to enhance its contribution to communities and find its essential place in it in the light of the last two years. Measuring the actual value of arts and culture to society is notoriously difficult, as their impact is complex and far reaching. Still, just as a stone creates small circles of waves in the water, each culture and art project does have an area of impact. These circles travel to the shore and come back. They will weaken when they cross paths, but if the various circles are vibing with each other, their energies will be added and increased. Similarly, the ability of the actors in different fields and agencies of art and culture to attune their perspectives towards a common and cooperative future will enhance their impact and their scope of operation. The question how this can be achieved successfully will be the leading thread for Cultural Encounters this year.

The Turkish-European project Spaces of Culture supports a new generation of change-makers and has provided a platform of discussion on cultural practices and policies across Turkey since 2017.

The project provides spaces and resources for the realization of cultural projects within the visual and performing arts, as well as for discussion, training and development opportunities for local institutions, cultural professionals and community members in Izmir, Gaziantep, and Diyarbakir and their neighbouring cities. The project is initiated by Goethe-Institut, the Consulate General of Sweden in Istanbul, the Embassy of the Netherlands, the Institut Français de Turquie, Anadolu Kültür and Istanbul Foundation for Culture and Arts (IKSV).

All sessions will be livestreamed through the Spaces of Culture YouTube channel.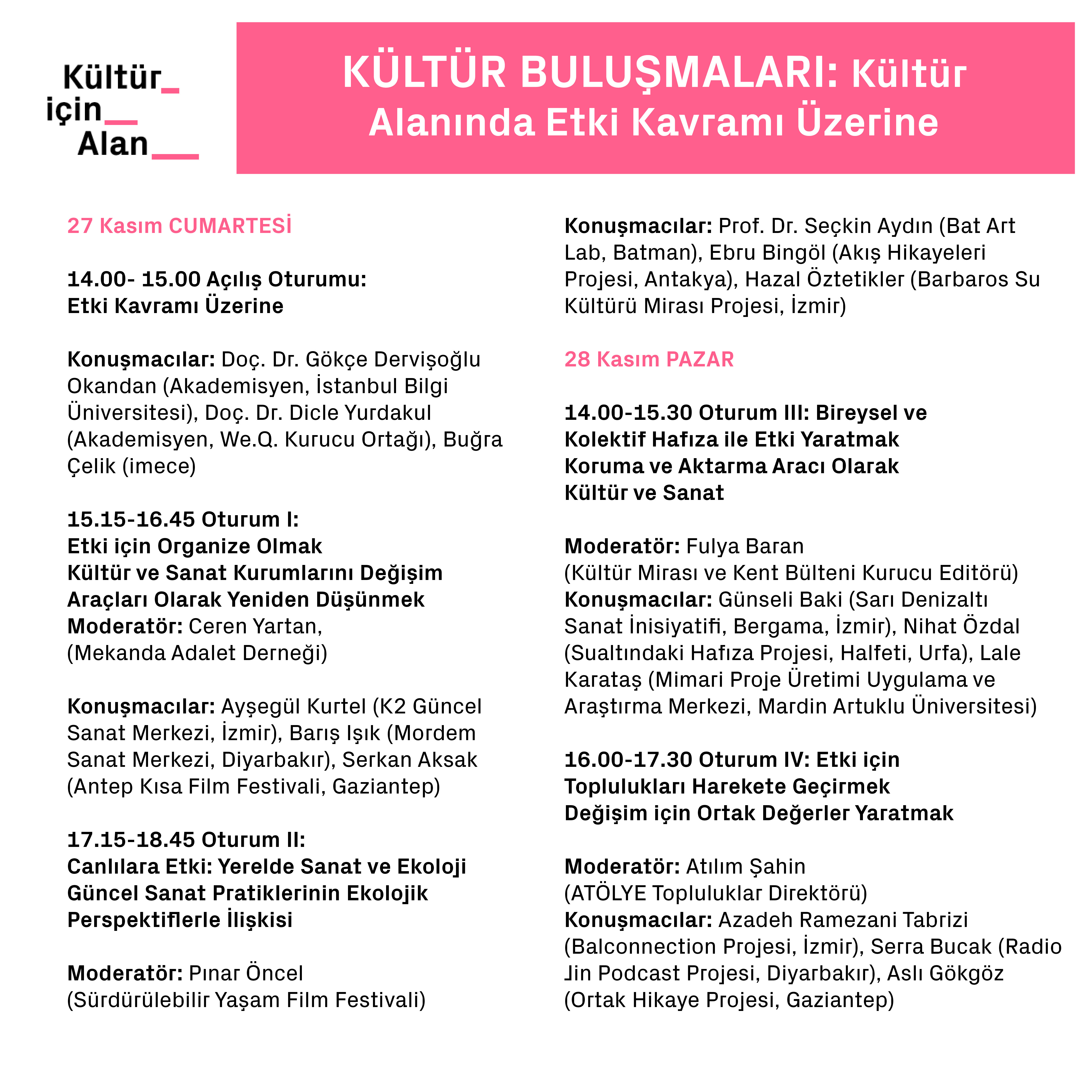 Encounters
Perspektif İstanbul
October 31th, 2021 13.00 GMT+3
Bağdat Street Apple Store




For the first time in Turkey, under the name of "Perspektif İstanbul", Today at Apple and ATÖLYE are organizing a series of sessions taking place between October 22 and December 5 with the attendance of local artists and creatives. We are happy to be one of the 14 creatives selected for this program.

Inspired from our Walk Around the Corner concept, we designed a performance walk titled "Encounters" for this program. Through performances, we will explore the streets around the Bagdat Street Apple Store.

Concept and Design: A Corner in the World
Design and Choreography: Ekin Tunçeli
Creative Dancers: Ekin Tunçeli, Berk Can Ceylan, Rüçhan Eylül Ercan

Thanks to BoMoVu for their venue support for the rehearsals.

#todayatapple #perspektifistanbul #acornerintheworld




Cultural Encounters: The Ecology of Arts and Culture
Online Series
November 27-29, December 4-6, December 11-13






Our digital Cultural Encounters online series that we organize under the Spaces of Culture Program is starting on 27th November! Under the scope of ''The Ecology of Arts and Culture'', participants from Izmir, Gaziantep, and Diyarbakır and invited professionals will explore the changing climate of the cultural scene across Turkey. Cultural Encounters also invites enthusiasts to its public sessions.


Follow the link to register for public sessions!

Here is the program.



︎A Corner In The World presents / 26.07.2020

CONVERSATIONS
21 interviews with artists around the world

A Corner in the World presents Conversations, an interview project with artists and art workers from different corners in the world about their individual processes during the pandemic outbreak, about their works and future perspectives.

Conversations intends to chronicle the various states, perspectives and processes that we go through in different locations around the world. Each conversation took place in the form of exchanged letters -in this case emails- between our co-artistic director Fatih Gençkal and each artist over a period of weeks, sometimes months. Each conversation begins with the same question and then carries on to where it wants to go.

The conversations are at https://conversations.acornerintheworld.com/

Conversations is realized with the support of The Consulate General of the Kingdom of the Netherlands.






︎A Corner in the World Performing Arts Festival 2015 book is out!
Please go to festival page 2015 to download.


︎ Project'06 - Performans Sanatı Üzerine Konuşmalar
20 Mayıs Çarşamba 14.00 Istanbul Bilgi Üniversitesi RGB Live
Moderators: Serhan Ada
Speakers: Iraz Yöntem, Simge Burhanoğlu, Burcu Yılmaz, Zeynep Uğur, Azra İşmen ve Şule Ateş



︎ #SalondanYayın: Korona Döneminde Tiyatro ve Seyircisi
19 Mayıs Salı 21.00 Şehir Tiyatroları YouTube kanalı
Moderators: Emre Koyuncuoğlu
Speakers: Fatih Gençkal, Ayşe Draz, Zeynep Uzun



︎ Daire Online: Karantina, a Neighbourhood in Izmir
19 Mayıs Salı 16.00 K2 Güncel Sanat Merkezi YouTube kanalı
Moderators: Şafak Ersözlü
Speakers: Tomislav Brajnovic, Ayçe Su Duran, Cansu Pelin İşbilen, Fatih Gençkal, Sarp Keskiner, Serenay Oğuz



︎A Corner in the World 29'59'' to take place on the 31th of May at Kundura Sahne is CANCELLED due to the restrictions against Covid-19.





︎'bir şey', created and performed by Ekin Tunçeli, planned to be performed in Transit FesZt in Romania on the 20th of April was CANCELLED due to the precautions against Covid-19.